Giggles…splashes…squeals… Those are the sounds of my kids during bath time. But it wasn't always this easy…or fun.  Even as babies, my kids would protest the dreaded bath.  Whether it was the fear of getting wet or simply fear of the unknown, I'll never really know.  What I do know is that I can't have dirty children!  So early on, I decided to get creative with bath time.  With a few toys, a dash of color, and a whole lot of bubbles, we transformed bath time into play time!
1. Get artsy:  My children love to color, but drawing on bathtubs and walls is so much more exciting. Check out Crayola's Washable Bath Crayons for creative, colorful bath time fun!
2. Get bubbly:  Bubbles are a must for every bath time adventure.  Check out Johnson's Baby Bubble Bath & Wash (the brand also offers a bedtime version).
3. Get colorful:  Once you introduce the beloved bath bomb, there is no going back. My children refuse to take baths without them these days. Check out Lush for an array of colorful, fragrant, indulgent bath bombs or try making them yourself!
4. Get playful: A bath is not a bath without toys (at least that's what my son says).  Interestingly enough, my children love playing with empty bottles and will choose them every single time over their toys.  If you really want to invest in some bath toys, check out the eco-friendly varieties at Boon.
As a mom, I've learned that creativity, flexibility, and a shift in perspective is often necessary to help my children grow and mature.  Whether it's getting them to try a new vegetable or helping them understand the importance of being clean, my job as a mom often requires me to think outside the box.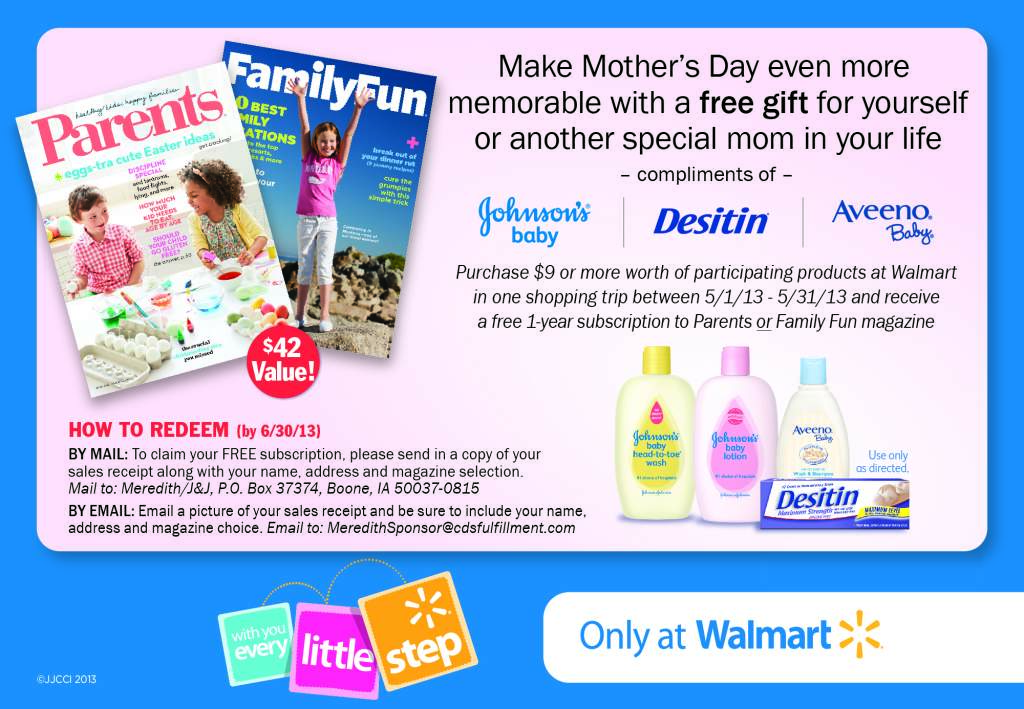 As we approach Mother's Day, Johnson & Johnson wants to celebrate moms and all that we do to care for our families.  The brand has partnered with Walmart to offer a free 1-year subscription to Parents or Family Fun Magazine with the purchase of $9 or more in Johnson & Johnson products.  Here is what you'll need to do to claim your free subscription:
1. Purchase $9 in participating products at Walmart through May 31st, 2013
2. Send in a copy of your receipt, your name, address, and magazine selection to Meredith/J&J, P.O. Box 37374, Boone, IA 50037-0815
OR
Email a photo of your sales receipt, your name, address and magazine selection to [email protected]

Images: Walmart 
Latest posts by Caryn Bailey
(see all)