Meal Planning Recipe: Spinach and Three Cheese Stuffed Shells With Homemade Marinara Sauce
While most people find mornings to be stressful, I find evenings to be the most difficult time of the day. If I haven't pre-planned dinner (which happens more often than I prefer), I'm struggling to prepare something healthy that my kids will actually eat.  Apparently, I'm not alone.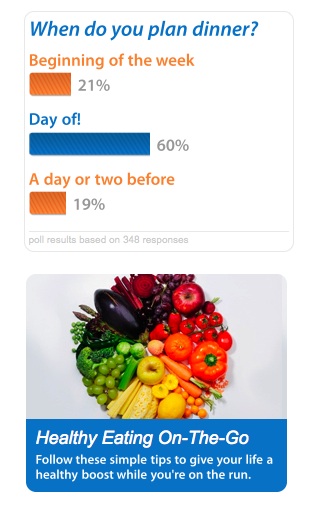 The typical scenario involves hungry, cranky kids and a stressed out mama trying to prepare dinner in a very short period of time, so If I'm nearing the end of the preparation process when my kids get home, I'm ahead of the game.  My husband always says that if I would just plan meals out each week, my stress level would diminish significantly.
With Walmart's new free Meal Solutions app, planning is affordable and doable. Once you've liked the Facebook page, you'll have access to daily recipes that can be prepared with ease.  Through the app, you'll also have the ability to create a personal meal plan (my favorite feature of the app), identify meals that you've made and upload photos of those dishes. By simply uploading your meal photos, you'll be entered to win recognition as the Meal/Chef of the week.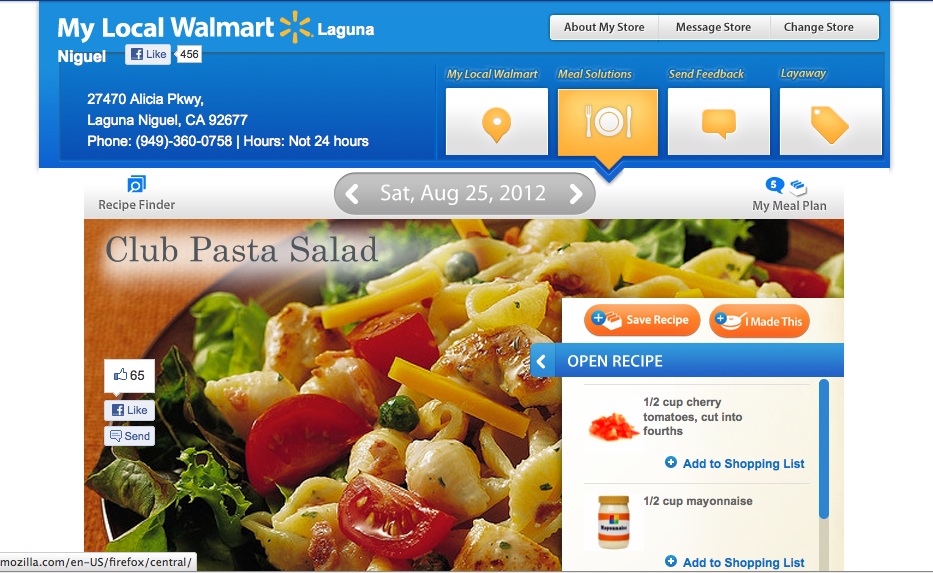 The very first thing you'll notice about the app is that it's tied to your local Walmart store.  This will come in handy when you identify the recipes you want to create, and then go on to plan your shopping list.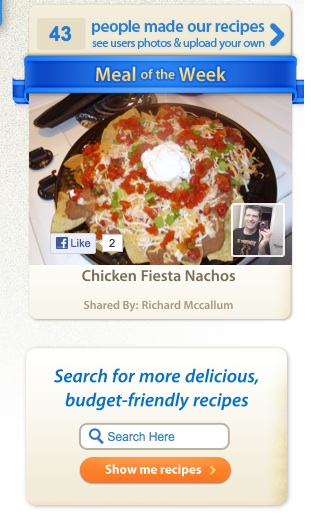 Each day, you'll find a featured recipe like the one above.  You'll also see a featured meal of the week which was made and photographed by another person who uses the app (this is where you have a chance too be featured).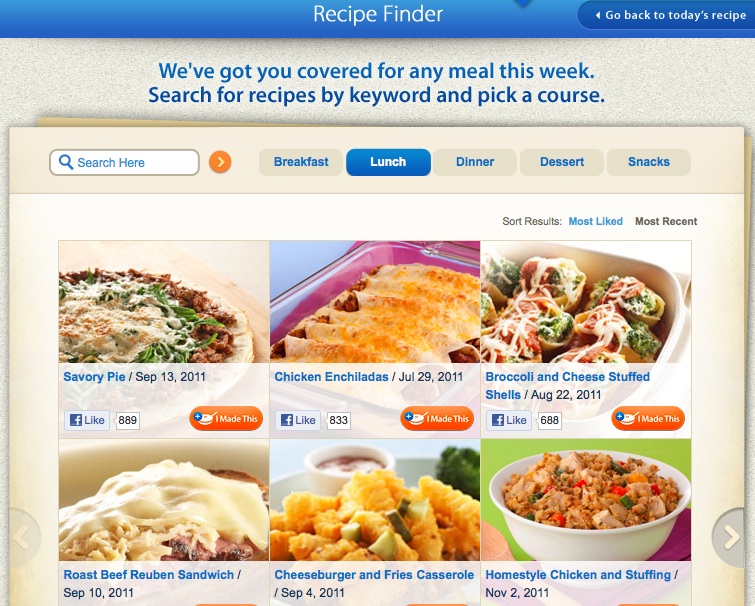 To use the app, begin searching for recipes you would like to make and "save" them.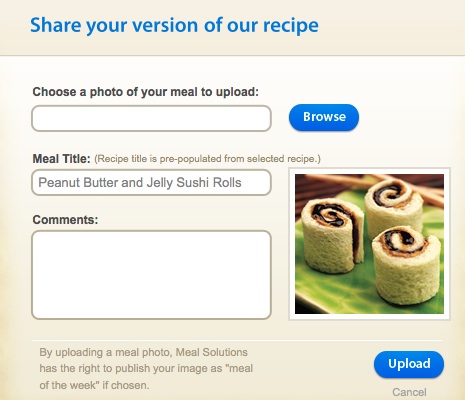 You can also share the recipe with friends.
Because I'll be preparing lunches for my son this year, I thought I'd use the meal plan option to plan my son's lunches. Check out this awesome recipe for Peanut Butter and Jelly Sushi Rolls.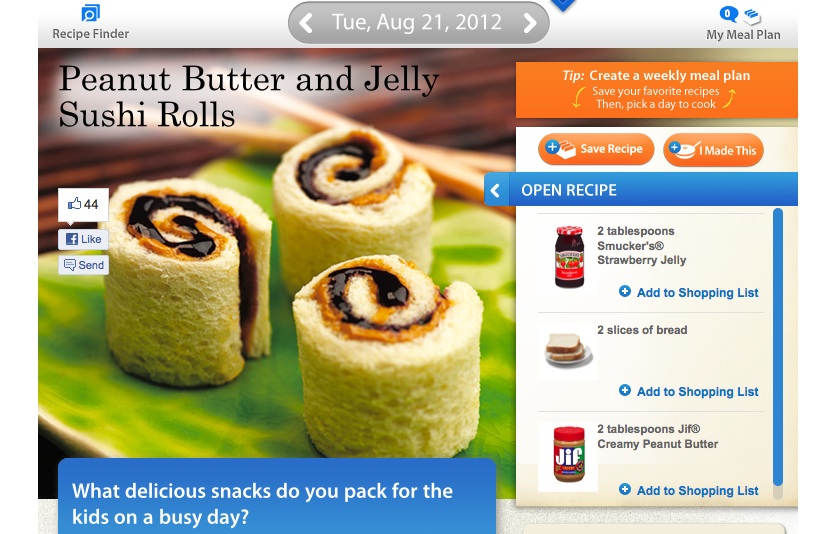 I really appreciate the fact that the recipe includes the items you need, listed and visible to add to your virtual shopping list.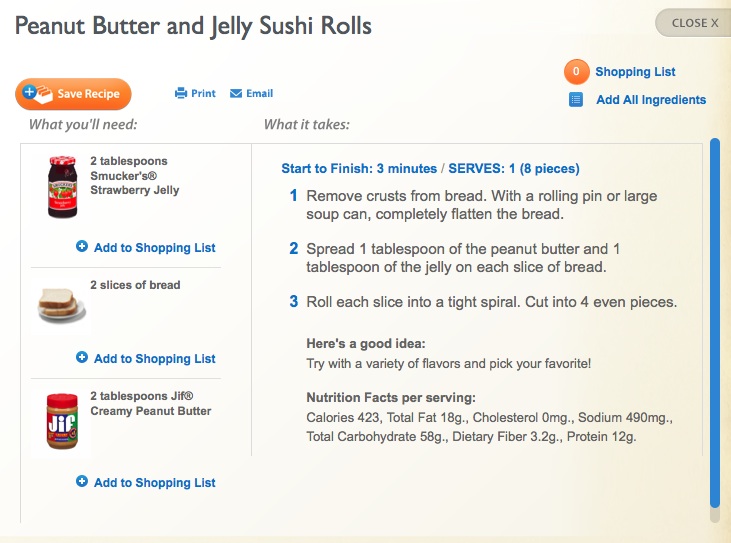 You can add all of the items you need to your shopping list to help prepare for your trip to Walmart.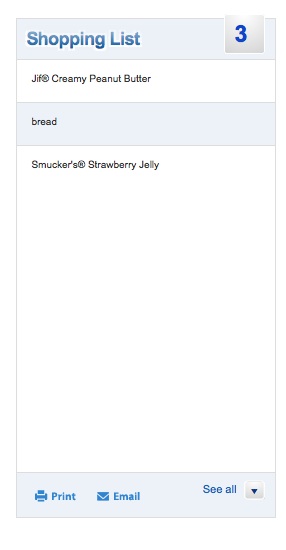 After browsing through the recipes, I selected 5 recipes to help me plan for my son's first week of school.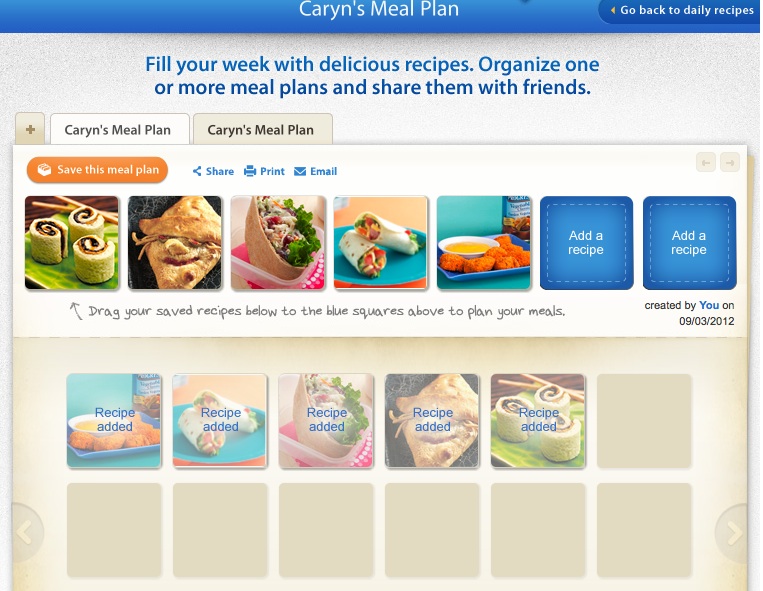 And since I need to begin getting organized for our first week of school, I decided to browse the site for recipes I can make this week.  I found an awesome recipe for Broccoli and Cheese Stuffed Shells that I'm going to re-invent!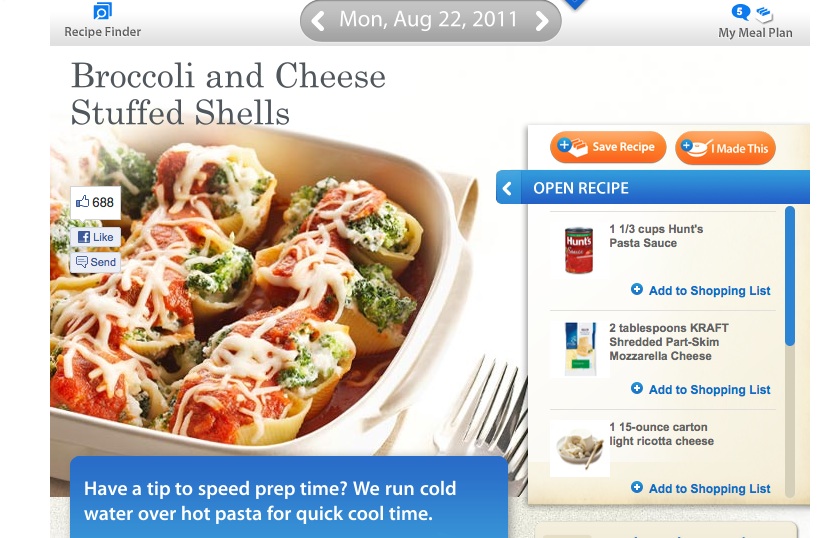 I substituted frozen spinach for broccoli and created a recipe for Spinach and Three Cheese Stuffed Shells with Homemade Marinara Sauce.
Ingredients
1/2 Red Onion, Diced
1/2 cup Carrots, Diced
3 cloves of Garlic, Minced
2 Tablespoons Olive Oil
2 cans of tomatoes (I used Organic, No Salt Added Tomatoes)
1/2 teaspoon dried Sweet Basil
1/2 teaspoon dried Thyme
1/2 teaspoon dried Oregano
1 dried Bay Leaf
Dash salt and pepper
Instructions
Sauté onions, garlic, and carrots in Olive Oil over medium heat until soft. Do not brown.
Add tomatoes and spices
Allow to simmer 30 minutes
Using a stand blender, puree
http://rockinmama.net/recipe-spinach-and-three-cheese-stuffed-shells-with-homemade-marinara-sauce/
Spinach and Three Cheese Stuffed Shells With Homemade Marinara Sauce
Ingredients
12 Jumbo Pasta Shells
2 cups of Frozen Spinach, thawed and drained to remove moisture
2 eggs
1 cup Ricotta Cheese
1 Cup Swiss Cheese, Shredded
1 Cup Mozzarella Cheese, Shredded
Dash of salt, pepper, and nutmeg
1 cup Homemade Marinara Sauce
Instructions
Cook shells al dente. Drain.
Combine ricotta cheese with eggs and spices
Add shredded cheeses
Add spinach
Take a Ziploc bag and fill with cheese mixture. Cut off end to fill shells.
Top with marinara sauce and shredded cheeses
Bake at 400 degrees for 25 minutes
http://rockinmama.net/recipe-spinach-and-three-cheese-stuffed-shells-with-homemade-marinara-sauce/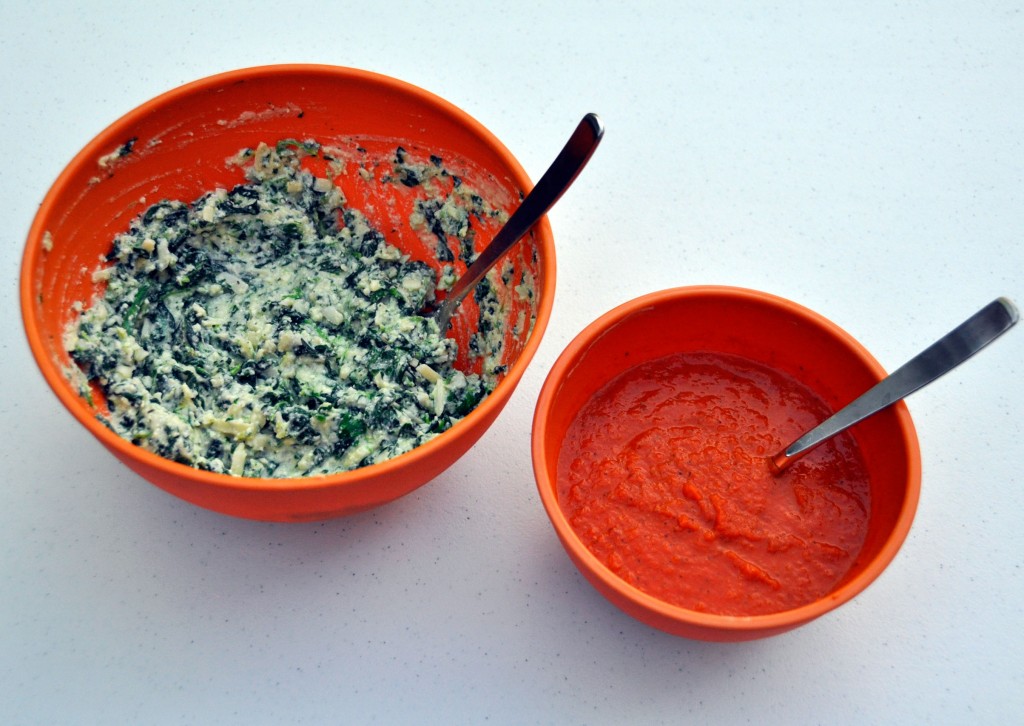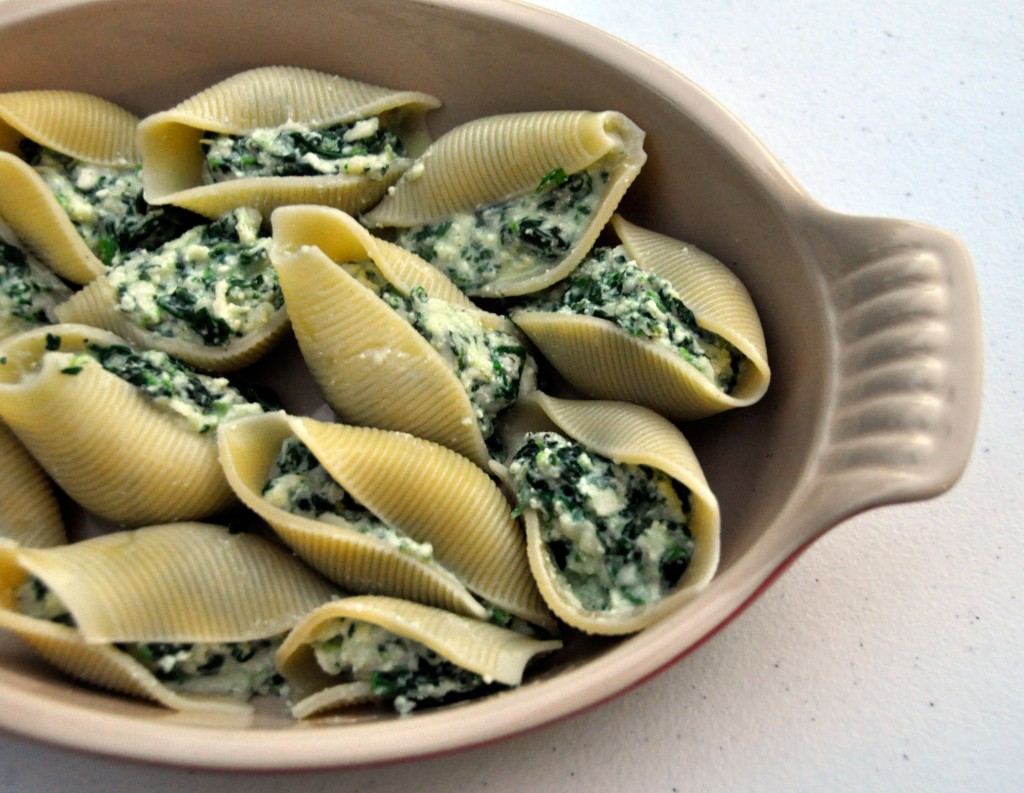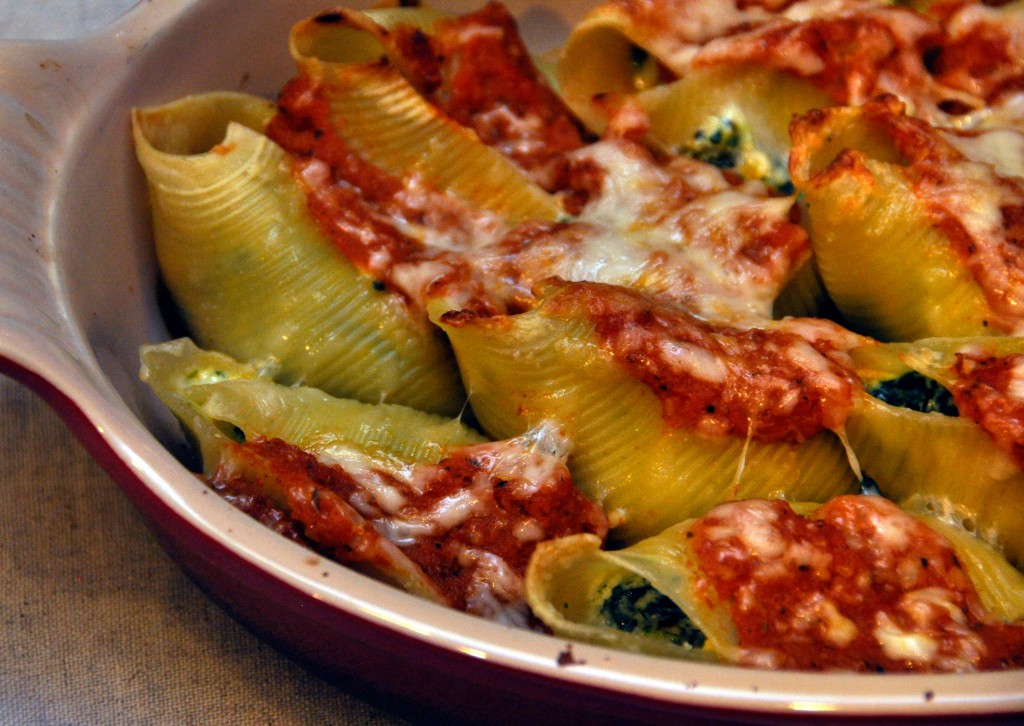 Here is the completed version of this meal.  While there are several steps, you could easily use jarred sauce, which would cut off a significant amount of time.  One of the suggestions on the original recipe is to use whole wheat shells, which I also recommend, but were not available at our local Walmart.
The Meal Planning app has already been incredibly helpful for finding new recipes as well as meal planning.  The app is free and can be accessed by visiting http://apps.facebook.com/walmartlocal/ and clicking on "Meal Solutions."
 Disclosure:  I participate in the Walmart Moms program and am compensated for my time and honest opinions.
Photos, Recipe: Rockin' Mama.