{Sponsored}
It's Labor Day Weekend, what most consider the last "Hurrah" before the beginning of the new school year.  Many use this weekend for last minute getaways or celebratory get-togethers.  While we'll still have plenty of hot weather to enjoy the outdoors, Fall is quickly approaching as evidenced by the earlier sunsets and slightly cooler evenings.  I always associate Labor Day with outdoor endeavors and we typically grill something over the long weekend.
Knowing that we were in for a hot weekend, I knew that neither of us would want to turn on our oven, so I planned to use the grill and serve up a bunch of no-cook sides.  Hamburgers are a grilling staple and one served at nearly every Labor Day party I've attended.  But our family almost never eats beef and it's been quite some time since we enjoyed a burger. As a vegetarian, I personally haven't had a lot of success finding a veggie burger I enjoyed and many store-bought varieties are filled with so many chemicals, I'd be better off eating meat.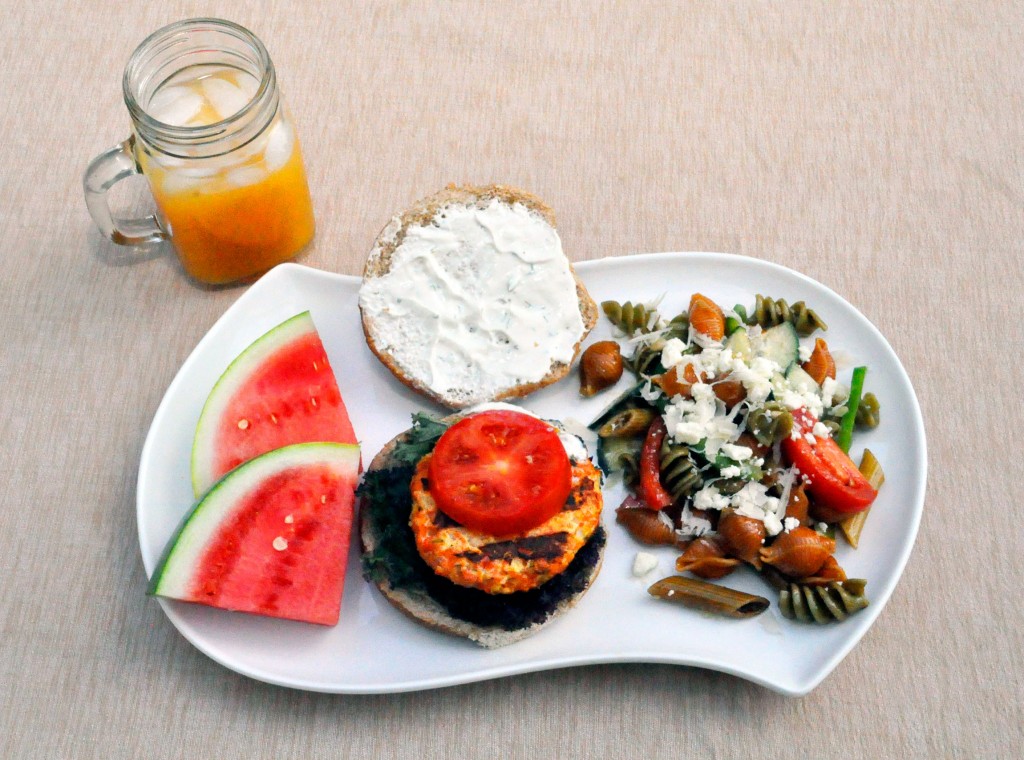 Because we eat fish, I started thinking about the possibility of a grilled salmon burger. My kids absolutely love fish (particularly salmon) and Walmart now sells Wild Alaskan Salmon in their freezer department so I decided to take the plunge and experiment.  With some fresh herbs, seasonings, and vegetables, bread crumbs, and egg yolks, these salmon burgers held up perfectly on the grill.  Here is my recipe for an easy, healthy, incredibly flavorful Grilled Salmon Burger:
Recipe: Grilled Salmon Burgers With Green Goddess Sauce
Ingredients
1 pound of Wild Alaskan Salmon, minced
1/2 cup finely chopped onion
1 clove of garlic, minced
1/2 cup finely chopped red bell pepper
1 carrot, thinly sliced
1 tablespoon fresh dill
1/2 teaspoon cayenne pepper
salt & pepper
3/4 cup Panko Bread Crumbs
2 egg yolks
Instructions
Prepare the salmon by removing any bones before mincing
Combine salmon with chopped vegetables and spices
Add egg yolks and bread crumbs
Form salmon mixture into patties
Grill 3-5 minutes per side until the fish is cooked throughout
http://rockinmama.net/recipe-grilled-salmon-burgers-with-green-goddess-sauce/
We didn't initially tell my kids that the burgers they were eating were actually made with Salmon. My son absolutely loved them and practically inhaled his (much the way he does with Salmon).  My daughter was skeptical, so we ended up telling both of them that in fact, they were eating the same fish we serve up with rice and veggies.
Given that these burgers are made with fish, they aren't going to need as much time to cook so watch them closely…nobody likes a dry burger. I recommend making thinner patties and using a meat thermometer to ensure they're fully cooked.  If you purchase sushi-grade salmon, you don't have to worry about grilling them that thoroughly.
The seasonings are really what make this salmon burger distinct. Experiment with flavor profiles and then compliment these burgers with your favorite toppings (Kale, Tomatoes, Red Onion, Avocado).  I absolutely love Green Goddess Sauce with Grilled Salmon so I used it as a spread over the burgers and it was divine.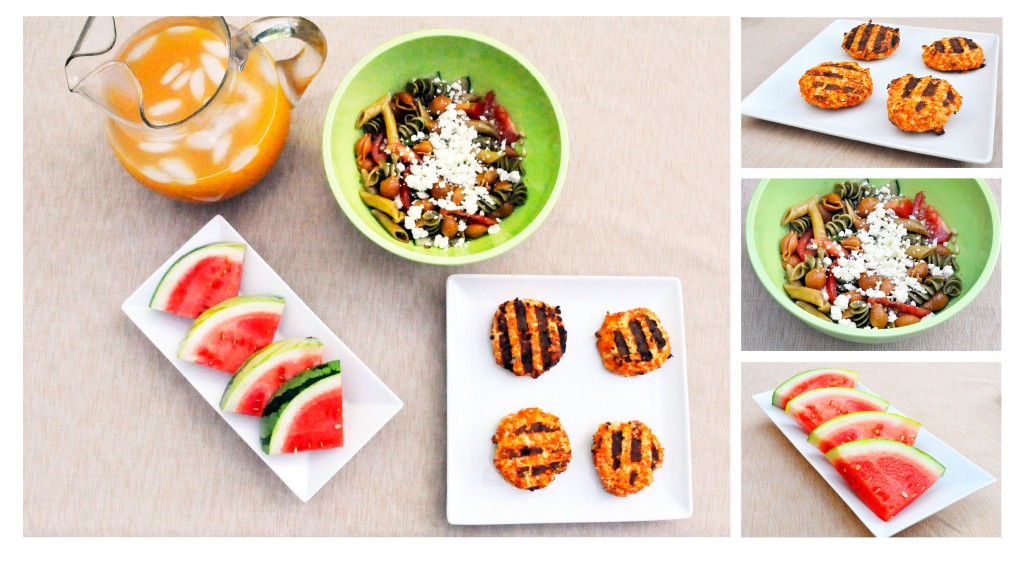 I kept the rest of our meal simple and healthy with a fresh Vegetable Pasta Salad, watermelon (we picked up a personal seedless variety that was delicious),  Homemade Peach Lemonade, and Creme Brûlée.  In a subsequent post, I'll show you how we caramelized the sugar for the Creme Brûlée (the hallmark of this custard-based dessert) without the use of a blow torch!
How do you celebrate Labor Day? I'd love to hear what you're cooking up this weekend!
*Note* All ingredients purchased at our local Walmart