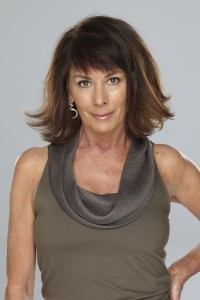 It was 1991, in the midst of the Disney Renaissance.  Beauty and the Beast, the third of ten films released during this ten year time period, wasn't even complete when it was shown at the New York Film Festival.  But the filmmakers and artists, particularly Paige O'Hara who voices Belle, knew the film would be special.  As an actress on Broadway, O'Hara knew how tough the audiences and critics could be.  When the film concluded, there was a 10 minute standing ovation from some of the toughest critics in the world. That was when O'Hara knew that the film was going to be so much more than she ever comprehended it could be.
Beauty and the Beast has received numerous accolades and awards, including Best Picture at the Golden Globe Awards and two Academy Awards for Best Original Song and Best Original Score.  And today, a 3D version is being re-released in theaters.
To celebrate the new dimension to the classic, I had a chance to speak with the lovely and talented Paige O'Hara.  Can you imagine that moment…that moment that will change your life in unimaginable ways? For O'Hara, she had to audition five times for the role of Belle. But her skill and confidence were unmatched in a role that truly is ideally suited for her.  In fact, O'Hara finds a number of similarities between herself and Belle.  O'Hara relates to Belle's awkwardness as she herself felt "out of place and odd" amongst peers who had different interests than she did. From the age of six, O'Hara was immersed in theater and art, and like Belle really wasn't looking for a man. She wanted to explore and enjoy life…go to Broadway….travel around the world…and she did. In the film, Belle makes a noble sacrifice for her father…one O'Hara identifies with more than most as she put her career on hold to care for her parents for seven years.
The character of Belle is one to be admired.  She's kind, courageous, independent,  and unwavering in her beliefs. As a princess, she ranks highly amongst the classics like Cinderella and Snow White. O'Hara recalls a time, about a year ago, when she was on a press tour in London promoting the release of the film on Blu-ray. She was standing amongst a group of five and six year old girls in awe of getting the chance to meet the "real" Belle, when one of them asked her where her ball gown was. O'Hara simply sat down, began reading a story in Belle's voice, and was surrounded by 150 kids.  Twenty years had gone by but that didn't matter… It was in that moment she really understood how timeless the film is.
O'Hara truly is part of a legacy.  Last Fall, she was given the distinction and honor of receiving the Disney Legend Award.  To be a part of something so incredible is one of the greatest honors of her life.
These days, O'Hara is taking her passion and love for art and painting oil paintings for Disney Fine Art. Specifically, she's involved with painting scenes from the film. She's also currently working on a musical about the life of Judy Garland. "Playing Judy would be a dream come true for me," O'Hara states. "I'm at the place now where I'm ready to play her…I've had enough life experience to understand her."  That is a musical I am anxious to hear more about.
At present, you can see Paige O'Hara in Vegas performing the hilarious comedic Menopause The Musical.
A huge thank you to Ms. O'Hara for taking time to speak with us.
Beauty and the Beast 3D is currently showing in theaters nationwide.
No compensation was received for this post. All thoughts and opinions remain solely that of the author.