In our traditional, last-minute frenzy, the hubby and I woke up at 4 am on Christmas morning to wrap presents for our children and begin the 4-hour homemade cinnamon roll project that's become a tradition in our home.  Despite the fact that we started the day out sleep-deprived, it was perfect. Our kids happily opened their gifts, completely content with everything "Santa" had brought them.  The day was spent creating and building with LEGOS and playing "doctor" with dolls (and mommy). Their play could only be interrupted by our made-from-scratch Christmas meal and a mid-day movie.
After we had finished unwrapping gifts, I asked my son if Santa had brought him everything he had asked for….without hesitation he said yes.  I'm thankful that my children are at an age where they are appreciative of what they are given…there was no complaints or grumbling that morning.
In our continual effort to teach our children to have thankful, giving hearts, we talked about the meaning of Christmas and how giving is an important part of the season.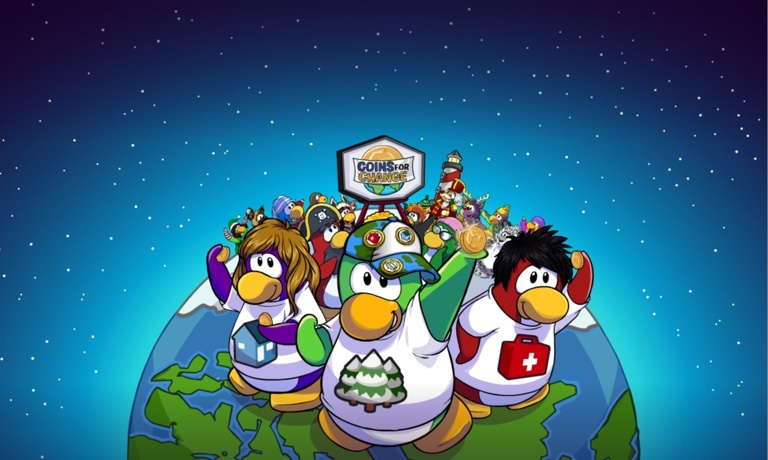 There are a ton of ways to give back this holiday season, but one of the most unique is Club Penguin's sixth annual Coins for Change campaign.  If your children are fans of the number 1 virtual world for children, they'll love the opportunity to change the world this holiday season by simply playing the games they love.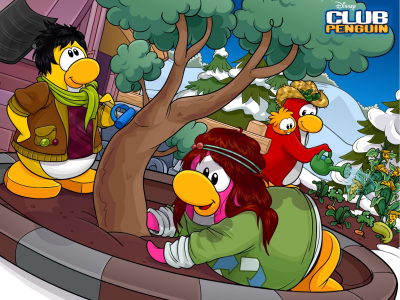 Through January 2nd, 2013, players can donate the virtual coins they earn playing online games to important, real-world causes.  This year, Club Penguin is hosting the biggest virtual bake sale ever with players baking millions of in-game cookies and then buying them using their virtual coins.
Players simply visit the bakery and cook up to three different kinds of cookies.  At the end of the event, donations from the bake sale will serve as votes to determine how Club Penguin will divide it's annual $1 million donation including providing medical help, building safe places, and protecting the earth.

Over the past six years, Club Penguin has donated $9 million through Coins for Change and helped over 1 million people in over 42 countries.  Some of the projects Coins for Change has funded include building 20 new schools, 25 school libraries, and 27 playgrounds.
Coins for Change is a wonderful way to inspire children towards social good and to think globally through online play.  Players who participate in the event will be rewarded when they participate by being transformed into special holiday characters for a period of time. All players can transform into toy cars and members will transform into reindeer puffles and frost bites which will allow them to temporarily freeze in-world items.
Parents looking to continue to inspire their children beyond online play can organize a bake sale and donate proceeds to a local charity.
Here is a fun Club Penguin-inspired cookie recipe to get you started on your way to a successful bake sale!
Puffle Sugar Cookies (recipe via Club Penguin)
Ingredients
3/4 cup butter, softened
1 cup vegetable oil
1 cup confectioners' sugar
1 cup white sugar
2 eggs
1 teaspoon vanilla extract
1 1/2 teaspoons lemon extract
4 cups all-purpose flour
1 teaspoon cream of tartar
1 teaspoon baking soda
1 teaspoon salt
1/2 cup white sugar for decoration
Preheat the oven to 375 degrees F (190 degrees C).
Sift together the flour, cream of tartar, baking soda and salt; set aside.
In a large bowl, cream together the butter, oil, confectioners' sugar and white sugar until well blended.
Stir in the eggs, vanilla and lemon extracts.
Gradually mix in the dry ingredients until well blended.
Roll the dough into walnut sized balls.
Place the cookies 2 inches apart onto the cookie sheet.
Flatten cookies to 1/8 inch thickness using the bottom of a glass dipped in sugar.
Cut a few triangle pieces from the top to make a puffle shape.
Colored sugar may be used if you do not plan to frost cookies later.
Bake for 9 to 12 minutes in the preheated oven, or until the edges are golden brown.
Allow cookies to cool on baking sheet for 5 minutes before removing to a wire rack to cool completely.
For more information about Coins for Change, visit Club Penguin.
No compensation was received for this post. Information provided by Club Penguin.